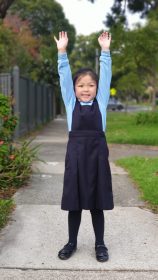 Chloe is a very cheerful five-year-old, who loves school, giving warm cuddles, and has just started learning how to ride a bike.
While nobody would ever think Chloe is different to any other child her age, she will proudly tell anyone that she has had a liver transplant. 
Chloe developed jaundice shortly after birth and when the yellowness in her skin didn't go away, her parents Valencia and Aaron took her to their GP, who told them to visit The Royal Children's Hospital (RCH) Emergency Department for further tests.
For Valencia and Aaron, the news that their five-week-old baby would not be allowed to leave the hospital was earth shattering.
"I can still remember every single detail when the gastroenterologist came into the room, wheeling his black suitcase, to diagnose her with Biliary Atresia, which was such a foreign concept to us," Valencia said. 
"Tears ran down my face while I held her tight, I just wanted to wake up from this bad dream." 
Valencia and Aaron spent the next few months in and out of hospital having countless blood tests, and IV inserts, feeling as though the bad news about Chloe's condition was never-ending. 
Finally, while napping next to Chloe in her hospital room, Valencia was woken up by Aaron, who had just been informed by their doctor that they may have a liver for Chloe. 
"Those exact words are forever imprinted in our memory. I felt like I had finally woken up from my bad dream. We understood that success was not guaranteed but we had heard of so many successful stories so we were hopeful," Valencia said.
"There were tears again but this time it was tears of joy. I started imagining what her true skin colour would be, and what she would look like without her distended tummy, it was a surreal feeling."
At eight-months old, Chloe had her liver transplant and spent a further two weeks in hospital due to complications.
Life post-transplant was a rollercoaster for Chloe, Valencia and Aaron but it was one the still-new family were gladly riding. 
"There were many ups and milestones in between her hospital admissions. We had to do another procedure to fix a narrowing duct close to her liver a few years post-transplant, that was taken out in October 2019," Valencia said. 
"Coincidentally, that same morning her grandfather passed away. Chloe has not been admitted since and her health is stable and better than ever. We believe she has two guardian angels looking after her, her donor and her grandfather. 
"Chloe is living her best life now and making up for lost time. She lives normally like any other kid and you wouldn't even know that she had a liver transplant and is immunocompromised. 
"She is a fighter and loves life."
This week is DonateLife Week, a national campaign encouraging Australians to register as organ and tissue donors. Chloe's parents are encouraging everyone to consider registering as an organ donor.
"The importance of organ donation was experienced first-hand by our family. Aaron and I came to Australia to study, and decided to raise our family here," Valencia said. 
"We often looked back and thought about what would happen to Chloe if we decided to raise her elsewhere, and agree she probably wouldn't be with us today.  
"We are so thankful and forever indebted to our donor family who said yes to organ donation at a time when they were experiencing so much grief for the loss of their loved one. We can all register now and save lives later. 
"Let your legacy live on in somebody else's body." 
For more information on DonateLife Week or to register your decision to become a donor, visit: https://donatelife.gov.au/.