On top of completing Year 12 during a pandemic, RCH patient Amber achieved an ATAR score of 95.90, while managing various chronic health issues in her final year of high school.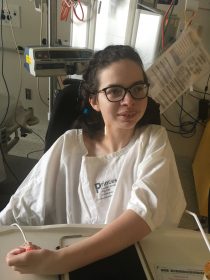 First arriving at the RCH at just 18-months of age after suffering multiple bouts of pneumonia, Amber's family were made aware of an underlying problem with their toddler. Eventually receiving a diagnosis of Dejerine Sottas Disease – a neuromuscular condition causing major muscle weakness – Amber arrived at the RCH for her first two surgeries by the age of three.
"The severity of my condition has meant that I have very limited movement, with the majority of my skeletal muscles being impaired," Amber said.
"I use an electric wheelchair, and have a complete physical dependency on others as my minimal hand, arm and leg functions reduce my independence.
Due to additional complications from her condition, such as severe scoliosis requiring two major surgeries, Amber's lungs have also been impacted. With approximately 30 per cent lung capacity, she was also diagnosed with a chronic respiratory lung disease, relying on non-invasive ventilation to breathe at night, and during the day when unwell.
Throughout 2020, Amber regularly visited the RCH to manage her chronic health condition, all while balancing the demands of VCE.
At the beginning of 2019 when commencing her first VCE subject, a large mass was discovered on Amber's ovary.
"I quickly underwent surgery to remove what was found out to be a teratoma with malignant cells, something completely unrelated to my underlying medical conditions," Amber said.
"After I already missed all of Term 1 and part of Term 2 in Year 11, I unfortunately missed a large part of Term 1 in my final year as I spent most of March, 2020 in Intensive Care battling another serious bout of pneumonia."
Determined to finish high school at the same time as her peers, Amber persevered with her studies in an incredibly difficult time.
"As true for anyone living with chronic illness, there is a very fine balance between health and study," Amber said.
"There were a few times when the stability of my health was uncertain and suggestions were made to postpone a year or complete VCE over three years instead and I just would not have it.
"I did ensure to take the time I needed to maintain my health, there were moments when I was physically unable to complete any work and I had to mentally accept that it was okay to take time to focus on myself, which was difficult for someone so stubbornly work orientated."
After an incredibly tough year, Amber graduated top of her class and achieved the score she needed to apply for her dream course – Bachelor of Arts (Psychology) at the University of Melbourne.
"I am fascinated with the concept of human behaviour and feel as though it is a field that offers many opportunities," Amber said.
"The possible job prospects within the field are not limited by my physical disabilities, enabling me to use my cognitive ability to assist others in a meaningful way.
"I have been given so much support throughout my life, of which the RCH has been a major part of, so if I can use my tertiary education to help provide support and give back to others, then I will have achieved my future study and career goals."